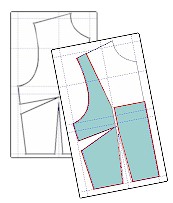 Making Bodices
If you've come to this page looking for a very quick and easy method of making bodices, go away. Really making a bodice is neither very quick nor terribly easy. What I'm going to do is present some pointers that will make the finished product easier to come by, and hopefully more comfortable to wear.

If you're new to the whole idea of making bodices, let me tell you what the rest of us who have made bodices before already know: you can't (no matter what anyone tells you) buy a wedding dress pattern (or any commercially made pattern, for that matter) and use the 'bodice' section, and make what we talk about in Renaissance circles as a 'bodice'.

It just doesn't work that way, and for the following reasons:
The seams (usually) are inappropriate. They're usually princess seams, which don't show up in fashion until around the time of George III
The patterns you find at the fabric store are made to hug but not reshape the body, which is the very function of bodice design.
A good bodice design will provide a woman of average proportions respectable cleavage (not spillage) without interfering with her ability to breath or move about (from the waist up, of course). Bending at the waist and slouching should be but dreams from the past.

There are two ways that I've used to get the pattern for the bodice, and both require the active and un-bashful participation of the person who's going to be wearing the bodice. You can draft the pattern, or you can make a duct tape shell. My preferred method is to draft the pattern, for a couple of reasons: when you get good at drafting patterns, it is much faster, so there's the time element. It's less physical work to draft.

Here, for the first time on this site, are the instructions for drafting a woman's sloper, and sleeve sloper. * (The men's sloper isn't in there, but the instructions are the same - just leave out anything having to do with the bust dart.) You can find the method in the book, The Costume Technician's Handbook, by Rosemary Ingham and Elizabeth Covey (I'd recommend getting the book anyway. Learning to draft patterns was the single most liberating thing I've ever done as a costumer.)

You'll need guidelines for the waist dart and bust dart, which aren't included in the PDF. There is a formula for each, and they're arbitrarily determined.
BUST DART
bust size
dart size
30.5-32
1/2
32.5-34
3/4
34.5-36
1
36.5=38
1.5
38.5-40
1.75

WAIST DART
waist dart = bust measurement - waist measurement
if the difference is:
the dart size is:
4-5.5
1/2"
6-7.5
3/4
8-9.5
1
10-11.5
1.25
12-13.5
1.5
So, for your average size 8 (27" waist, 34" bust) the bust dart would be 3/4". The waist dart would be: 34 - 27 = 7, giving you a waist dart of 3/4". If the waist is larger than the bust, or the difference is less than 4", forget the waist dart altogether.
What I will do on these few pages is fill you in on some of the things I do that knowing how to draft patterns won't tell you, and show you what to do with the sloper pattern once you have one.
* You'll need a PDF reader. We recommend and use FoxIt.