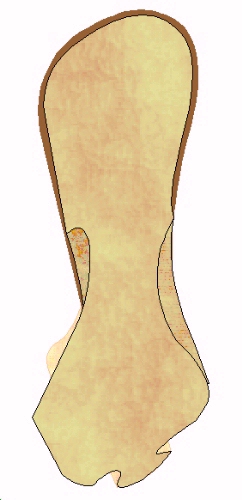 Press the upper to the welt of the sole, aligning the big toe and the center back markings (at least). Remember, with Barge you only get one shot so be careful. Now, I have illustrated the edge of the upper (dark mottled yellow) as sitting back a bit from the edge of the sole (dark brown). This is for clarity of illustration only! The edges should be flush.

Note: If you have made the upper properly, you may have to stretch the edges of the upper to fit it to the sole. You may even have to stretch them a lot. You may even have to go so far as to let the sole/welt buckle a little, so that they compress a bit when they're pressed against the upper. It's all part and parcel of the whole gig, and frustrating as hell.

If you've been successful so far, go do the other boot, then quit for a while. The cement really needs time to sit and grab the leather, and you really need time to sit and grab a beer (or whatever it is you drink to relax). Give it a couple hours or so.